Becca Jensen purchased Blondie but as every kid tends to do, Becca renamed her Milkshake! Becca's Mom purchased Milkshake off the ONLINE Auction, site unseen, she talked to the consigner and watched the videos. The sale ended on Thursday, (Milkshake was in the May Super Select Sale) and they went and picked up Milkshake on Friday. Becca enjoys riding at WSCA shows and Barrel Racing Jackpots. They took Milkshake to a show that weekend and won ribbons on her. This team has won money at barrel races this summer and they qualified for the WSCA Championship Show. At the WSCA Championship show they WON ribbons in 2 classes, a HUGE accomplishment. We wish Becca and Milkshake good luck this weekend as they are headed to the Sherry Cervi Youth Championships.
Thanks again for all your help selling our horse!
We had a great experience selling our horse with Designer Horse Sales.  It made the difficult process of selling very easy!  I just had to send some pictures and video clips and Designer Horse Sales took care of the rest.  They put together a beautiful profile picture and a heart-warming video of our horse.  They did an amazing job of advertising to find him the best home! We received calls from Wisconsin, Iowa, Wyoming, North Dakota, South Dakota, Illinois, Oklahoma, Virginia, and Minnesota – honestly, it felt like our horse became a celebrity overnight.  Everywhere we went people were talking and asking about our horse.  The last night of the sale was filled with excitement and suspense as we watched the final bids come in and our phones blow-up from family and trail riding friends that were also watching the end of the auction.  It truly was an experience I'll never forget. Designer Horse sales assisted from beginning to end; putting together information/pictures, to advertising, to selling and even after the sale helping with money collection and arranging transportation of our horse to his new home– they helped us every step of the way! We couldn't be happier with the outcome of the sale and the process couldn't have went any smoother.  We would definitely recommend Designer Horse Sales to anyone looking to buy or sell a horse!  ~JoAnn~
Designer Horse Sales did a fantastic job promoting my horse for the auction. They were fantastic to work with and made the whole process easy for both the seller and buyer. I would absolutely recommend them for anyone looking to sell/buy a horse.
~Katie Thompson
We are very pleased to work with Designer Horse Sale for our horses that are on auction! They definitely give it there all when it comes to a sale. They are great people to work with and always being helpful!!
~Kassandra Rose
HAPPY CUSTOMERS
Hi Designer Horse Sales, I wanted to share these with you. Our girls are in love with Gus Gus and we are thrilled to have him!
Let me tell you about my guy Jackpot. When my trainer and I started looking at horses for me, I knew I wanted to feel good about what I was getting, and from a trusted source. We found Jackpot through Designer Horse Sales, and I could not be happier! He is such a a amazing guy, and we make a great team. He's exactly as advertised! I was so nervous to buy my first horse! It's a big step, but I felt so confident dealing with DHS. It was really nice to be able to message the consigner, and ask as many questions as I needed to. It gave me peace of mind knowing that DHS is meticulous in choosing the horses they consign. If you are at all in the market for a horse, please do yourself a favor and look at purchasing through DHS. It was seamless, from beginning to end….and I loved getting the "Congratulations!!!" phone call, when I was the winning bid. Thank you for making my first horse purchase, as a new horse owner…so great!  ~Janessa Zenzan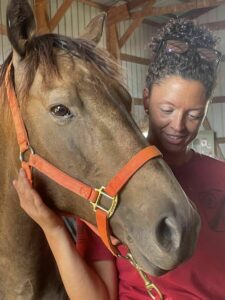 Designer Horse Sales does an excellent job of promoting and advertising their consignors horses!   
~Marcey Lysaker